THAILAND FACTORY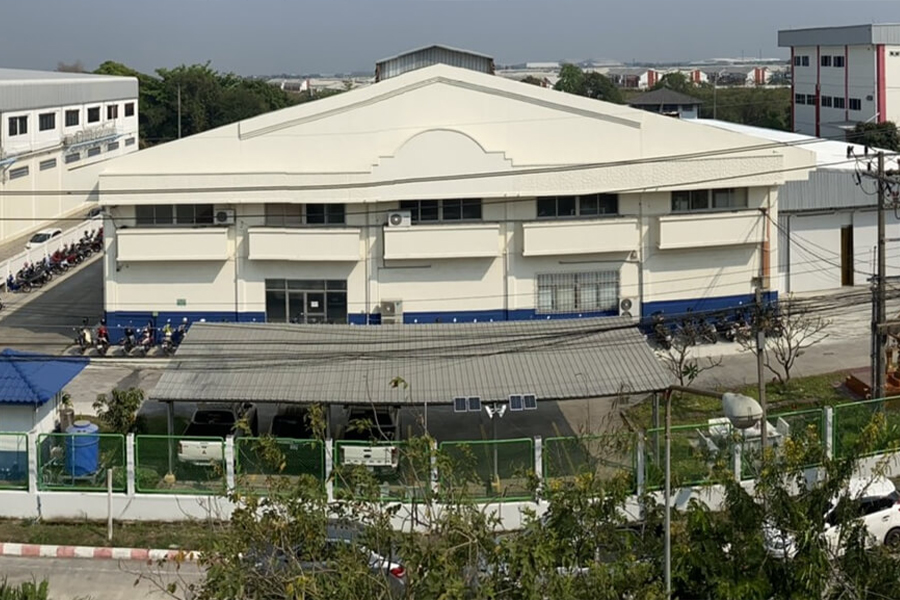 〒

10540
ADDRESS

Bangplee Industrial Estate NO.399 Moo 17,Tambol Bangsaothong Amphur Bangsaothong,Samutprakarn 10540 Thailand
TEL
FAX

02-705-8771
LAND

4,800㎡
BUILDING

4,300㎡
ACCESS

From central Bangkok to Chonburi (Route 34) , make a U-turn on Bangna Trad road 24㎞ point and go straight. Turn left in front of Bangna 2 Hospital and head for Bangplee Industrial estate. Continue Go straight, turn left on Soi 7th Street, turn right at the T-junction at the end, and go straight for about 500m green gate on the left is our entrance.
Company comment
Chusei Kogyosho (Thailand factory) Local name: Chusei (Thailand) co., ltd. manufactures wire harnesses for automobiles and It is a harness manufacturing company that we are doing. wire harnesses for home appliances. Company establishment: September 2006, capital: 10 million baht, BOI approval December 2006, PSE approval September 2007, ISO9001: 2015 approval. In Thailand, we received requests from Japanese manufacturers and local manufacturers in Thailand for harness assembly and requests from Japan Chusei Kogyosho. It is a company that exports to and has received BOI certification from BOI (Thai Board of Investment) for import and export. The location is 60 ㎞ from Bang Phli Industrial Estate (Industrial Estate Authority of Thailand) and the capital of Bangkok, and 20 ㎞ from Bangkok Suvarnabhumi International Airport. The logistics port Laem Chabang is also within 60 ㎞, making it a suitable location for manufacturing bases. In the factory, we consistently cut the electric wire (cord) used for the wire harness, crimp it, and attach the parts to be used. We are involved in delivery, delivery, and export to customers. We also prioritize quality with a production system of about 300 employees, mainly female employees.
Main products
Headlamp harness

Automotive

It is a harness used to turn on the headlamps (headlights) of automobiles. As a recent trend, the lamp itself has become multifunctional, and it has become a complicated harness that uses many electric wires.

Telllamp harness

Automotive

Harness used to light the tail lamp(marker light) of a car. It informs the following vehicles and pedestrians that the vehicle is running and its existence.

Headlamp harness

Automotive

A harness used to turn on the headlights of motorcycles. For motorcycles, the mainstream is a harness with a tape-wrapped tube as a waterproof specification.

Main harness

Home
appliances

We also handle main harnesses for refrigerators in the home appliances area, and there are small to large harnesses.depending on the capacity of the refrigerator, there is also a harness with a total length of 4 m, and we are also good at temperature fuse cords with temperature fuse for refrigerators. We also have manufacturing equipment in our fields.
Main work contents
Electric wire
cutting and crimping

work: Enter the set value in the machine, check the electric wire (with terminal) that came out, and put it in the case box.
Hand crimping

work, you set the electric wire on the desktop crimping machine and step on the foot pedal to crimp the terminal to the electric wire.
Cut and
crimped products

inspection work, all cut and crimped products are visually inspected, and only good products are judged as acceptable products.
Cord assembly

work is completed as a cord assembly by inserting the cut product and crimped product into the connector or tube.
Code inspection

inspection work guarantees the assembled product by making a pass / fail judgment by curcuit and visual inspection.
Packing

work of before shipping. Passed products that have been inspected are packed in boxes in a fixed number and delivered on the specified delivery date.
Auto cut machine and crimp work

Hand crimp work

Cut and crimp inspection work

Code assembly work

Assembly inspection work

Completed packing